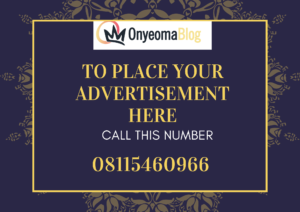 By UDAYA HENRY OBINNA
I had tried without results to quell this burning desire in me, especially as it concerns the recent nomination of commissioners by the Peter-Mbah-led-administration in Enugu state, and the very need to include a predominantly loved personality such as Comr. Peter Andy (immediate past commissioner for transportation Enugu State) in this ongoing sterling assemblage of competent personalities by our dear new Government in the state. In a simple parlance, it is important I admit that the harder I try to suppress this urge, the harder it pushes my inner being to convey this all-time message to our dear Governor.
Your Excellency Sir, without trying to bug you with a long epistle because of want of time, let me quickly state in clear terms that In leadership generally, and especially in Enugu North senatorial district of Enugu state, that there is a big and huge gap no one has been able to fill, and not money, not long profile can ever fill, but a special place only an alluring personality can fit into. .
And here comes Comr. Peter Andy: young, creative, brilliant, intelligent, adventurous and innovative. Leadership called at Comr. Peter Andy's door very early in life when back in school, he became student union leader at the University of Nigeria, Nsukka. And thereafter, his general acceptance caught the eyes of people of the district when he came into limelight, following his appointment as caretaker committee chairman of Igbo Eze south LGA in 2019, by the former Governor of Enugu State, His Excellency, Rt. Hon. Dr. Ifeanyi Ugwuanyi
Within that short stint of three months, the young council boss took his world by the storm and showed very beautiful leadership skills which threw him up as next executive chairman of Igboeze South LGA. Many thanks once again, to your predecessor, Dr. Ifeanyi Ugwuanyi who saw a burning heart inside Comr. Andy who was already soled to the service of his people. And from that point, he began to steer the ship of the council as their duly elected council chairman, having emerged as one during the year's LG elections in the area. While Comr. Andy's term in office lasted, he brought back government to the people of Igbo Eze South LGA. This was made possible because of the fact that he is from the grassroots and as such, understands the language of the people in the hinterlands.
Your Excellency, unlike what is obtainable in today's leaders, Comr. Andy lived amongst his people, he dined and wined with them, and in so doing, he became the very government official the people considered closest to the common man. This was made possible because his phone numbers where in the public domain and Andy himself was at the beck and call of every Tom, Dick and Harry across Enugu North Senatorial zone. It was, however, this particular attitude that won him over to the people of the six LGAs of the zone, and then, Comr. Andy became their own very Chairman.
Read also Banker Withdraws Five Times With Customer's ATM Card, Says It Is A Mistake 
You will recall that during your visit to development centres across Enugu, that the ovation that trailed Peter Andy's invitation to the podium when your team touched down at Igboeze South LGA, took over five minutes to wane. That is how popular and lovable he is. And to confirm what I have just stated above, my dear Governor, I wish to challenge your Excellency to take further steps to verify what I have written in this piece, by calling residents across Enugu North Senatorial zone to further conduct enquiries on who the man they call 'Peter Andy' and his antecedents are.
Comr. Peter Andy is a delight to watch in public life. He is not just loved by his people, they mob him at every public appearance in appreciation for his humility, selflessness.
Yet, while he held sway as caretaker Chairman, Comr. Peter Andy within one year in office verifiably carried out programs that put smiles on the faces of the people of the zone. Evidently, Some of his strides as caretaker committee chairman include provision of free water to all, and grading of local roads. Peter Andy had in one occasion empowered over 158 village women with N50,000 each for petty businesses and also offered petty business supports to 347 women and men with N20,000 each. He further capacitated another round of seven talented young persons drawn from different communities of Igboeze South LGA with the Sum of N500,000 each, to be used to promote their chosen careers and God-given talents.
The Peter Andy administration still within one year in office, had spearheaded and superintended over a skill acquisition and training programme organised for both the Youths and women of the LGA who got sponsorship and supports for their different areas of training. Meanwhile, his administration had also, within one year in office, built a motorised industrial borehole powered with Mikano Sound-proof generator set at Ikolo, Ibagwa-Aka, State-of-the-art toilet facility at the local govt secretariat; just as he also drilled motorised industrial borehole at Alor-Agu.
Also in the young Mayor's kitty include state-of-the-art toilet facility at Nkwo Ibagwa-Aka, total overhaul (rehabilitation/renovation) and equipment of Ovoko Health Center, state-of-the-art toilet facility at Orie Igbo-Eze, Iheaka; construction of modern Health Center at Anyanwu-Anyasi, Ibagwa-Aka; state-of-the-art toilet facility at Afor Unadu and Repair of the heavy-duty machines (Caterpillar and Grader) that were abandoned for almost 12 years. Others were provision of Covid-19 palliatives to the 16 wards of Igbo-Eze South, Council of Igwes, people living with disabilities, UNN staff, widows and youths; Offsetting of remaining bill for completion and energizing of Uzoego Ibagwa electricity, construction of Police Post at Iheaka and Offsetting the bill for electricity expansion to Unadu community.
The Peter Andy administration within one year in office also cleared the bill for Electricity expansion at Ndadu Ibagwa-Aka, ensured development of a brand new daily market at Iheaka, cleared the bill for renovation of Eburummiri Ibagwa Health Post, Part renovation of Ibagwa-Aka Health Center, construction of Town Hall for Ndioke village as part of their compensation for their land used for the Type III Primary Health Care and Grading of major and village roads.
It is however, on the strength of the foregoing that I write to make passionate appeal that Comr. Peter Andy be given a greenlight in His Excellency's cabinet, so that he would continue to put smiles on the faces of our rural dwellers and Nsukka zone in general.
Shalom!
UDAYA HENRY OBINNA writes from Igboeze North LGA of Enugu State