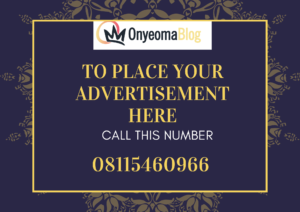 Few hours to the commencement of the Local Government Congresses of the All Progressives Congress APC across the nation, the crisis brewing the Enugu state chapter of the Party has taken another shape following a statement made by a non existent group by name :United APC Group.
The group had In a statement signed by Mazi Abuchi Eze and Mr. Clement Iloanya, as Chairman and Secretary respectively on Friday, called Senator Ken Nnamani a financier of APC in Enugu State.
The Leadership of the APC Leaders Forum, has condemned the statement as it is an affront on the dignity of the Party.
In a statement signed by the Group's National Secretary, Dr Charles Ogbu, he stated that, Sen Ken Nnamani has never contributed even a single dime since he came into the Party and has been called upon to assist the group in their programs, which he has on several occasions, declined, saying that, APC is for the National Cake sharing.
Read also https://onyeomablog.com/dss-stopped-american-lawyer-others-from-visiting-kanu-counsel/
He posited that, prior to the former Senate president's Entrance into the Party, the Party led by Dr Ben Nwoye, Hon Emma Enukwu and Barr Okey Ezea had given APC over 25% at the poll before it reduced drastically to less than 7%, when Senator Ken Nnamani the acclaimed Prometheus was told to lead the Buhari's campaign.
"He negotiated 25% with the PDP and Yet, he lost woefully in his polling unit"
" Those calling Senator Ken Nnamani a financier of the Party are making mockery of our notable members across the globe who has been financing this Party in so many ways.
" Can Sen Ken Nnamani mention any APC branded vehicle he has donated since he entered the Party?"
"Can he mention one single time that he has sponsored his Ward meeting"?
"Can Senator Ken Nnamani mention any Party Office across the 260 political wards in the state that he has rented a single Office For?
" Can Senator Ken Nnamani who claims to be for APC tell us why he worked against APC during the Isi uzo Bye election in 2020?"
The APC Elders Forum also mocked the idea of forging letters from the National Secretariat which they alleged that Sen Ken Nnamani and his group did, just to deceive their unsuspecting followers, into believing that Dr Ben Nwoye has been retrieved of his duty .
"We frown at the disdainful act of forging letters from the National Secretariat of the Party allegedly perpetrated by Sen Ken Nnamani' and his cohorts just to Speed up the crisis perambulating the State Chapter of the Party"
"It is high time the security agencies do their work and set a precedence for others to learn from.
" History will Never be kind to Sen Ken Nnamani because, he is  the one that dislikes Progressives "