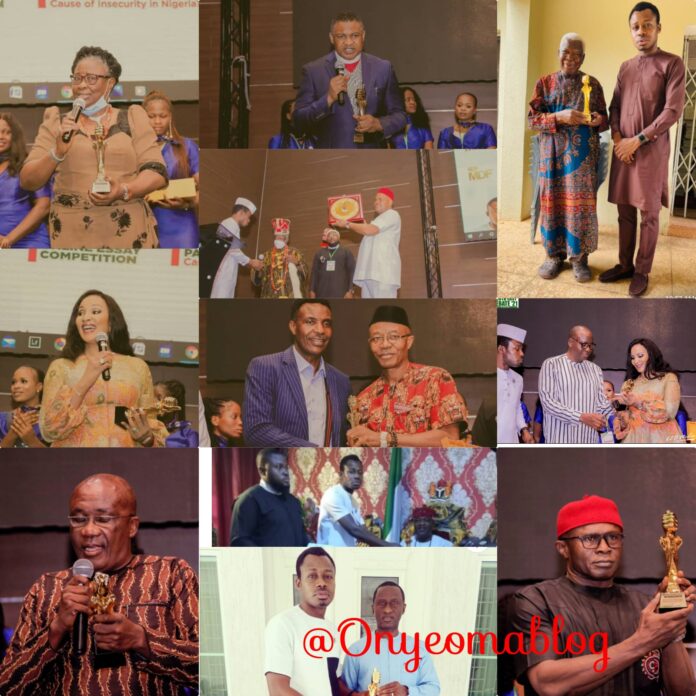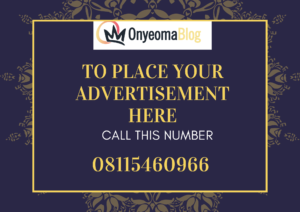 ...the Presidency watched the live streaming of The SED'21.
The CEO of Monday Diamond Foundation, Convener of the biggest academic event in South East 2021 Monday Diamond Ani has said that the NGO honoured some notable Igbo Sons and Daughters based on their outstanding positive impact in the society.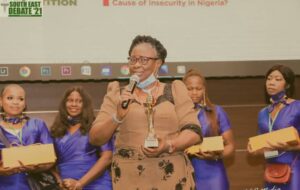 The Convener who is also the Special Assistant to the Governor of Enugu State on Culture and Tourism, while speaking with news men stated that Igbo race is a unique race with unique people and notable personalities who have made the Igbos proud in all life endeavors.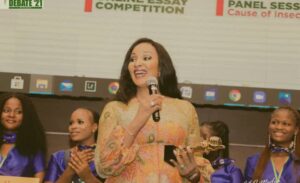 Recall that at the peak of The SOUTH EAST DEBATE'21 the Convener through the approval of the Board of Trustees gave Posthumous Awards to the first President of the Federal Republic of Nigeria His Excellency Dr Nnamdi Azikiwe through his wife Her Excellency Prof Mrs Uche Azikiwe MFR as "The Igbo Leader of The Millennium" and General Chukwuemeka Odumegu Ojukwu (Eze Igbo Gburugburu) as "The Igbo Hero of The Millennium" through his wife Her Excellency Amb Mrs Bianca Ojukwu (fmr Nigerian Ambassador to Spain). Enugu State Governor Rt Hon Ifeanyi Ugwuanyi was also honoured as "Peace and Unity Leadership Governor of the Year."
Other Awardees were;
Dr Uche Ogah, Minister of State for Mines and Steel Development.
Chairman Masters Group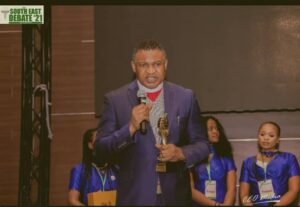 High Chief Emmanuel Iwuanyanwu
(Ahaejiagamba Ndigbo)
CEO Iwuanyanwu Int'l FC and Champion Newspaper)
Philanthropist and the Chairman Ohaneze Ndigbo Elders Council
Most Rev Dr Emmanuel Chukwuma OON
Archbishop of Ecclesiastical Province of Enugu Anglican Communion.
"Pro masses cleric"
Dr Sam Maduka Onyishi MON
Philanthropist and CEO
Peace Mass Transit
Dr Ben Nwoye
Philanthropist and
Federal Commissioner
Read also More Trouble For The Resigned Enugu Commissioner Dr. Victor Nnam As NULGE, Organized Labour Accuse Him Of Land Grabbing.
His Royal Highness, Igwe Abel Nwobodo
(Awalagu 1 of Umuawalagu)
Progenitor of Royalty
His Royal Highnes
Igwe Dr Emmanuel Ugwu
Ezeokwe 1 of Okwe Kingdom
Progenitor of Royalty
His Royal Highness
Igwe Cyprian NevoObasi
Ogilishi-Igbo
Ezeani II of Mmmaku Kingdom
Progenitor of Royalty
Chief Chukwudi Nnaji
(Onwa Igwurubeze) Philanthropist and the
Chairman 9TH HOLDINGS GROUP
Board Chairman MDF.
Bishop Chinedu Nwoye
Bishop of Christ Ascension Church Ebonyi State. Pro masses cleric.
Hon Barr Mrs (Chief) Juliet Ibekaku-Nwagwu
Special Assistant to the President on Justice Reforms, Int'l Relations and Asset Recovery.
Philanthropist and Active female Politician
Dr Mrs Ifeoma Nwobodo
Sloan Fellow London
Chairman IMT Governing Council.
Proactive Technocrat
The Awards were given to them to recognize and honour their respective individual roles and efforts towards a better Igbo Nation and Nigeria at large.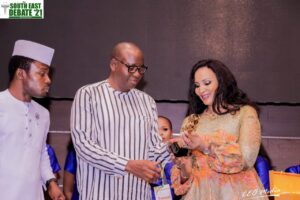 According to Diamond, Monday Diamond Foundation is an NGO which represents the interest of millions of youths and students of South East and Nigeria at large because of the scope of its Program which promotes girl-child education, alleviate poverty,raise the consciousness of young leaders and covers the overall interest of Nigerians who yearn for better leadership through a restructured system and and unnegotiable security and welfare of the citizenry.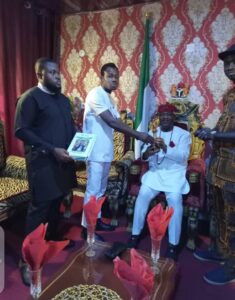 It should also,be noted that our findings showed;The SOUTH EAST DEBATE'21 caught the attention of the Presidency to watch the live streaming of the Debate as well as the Panel Session.