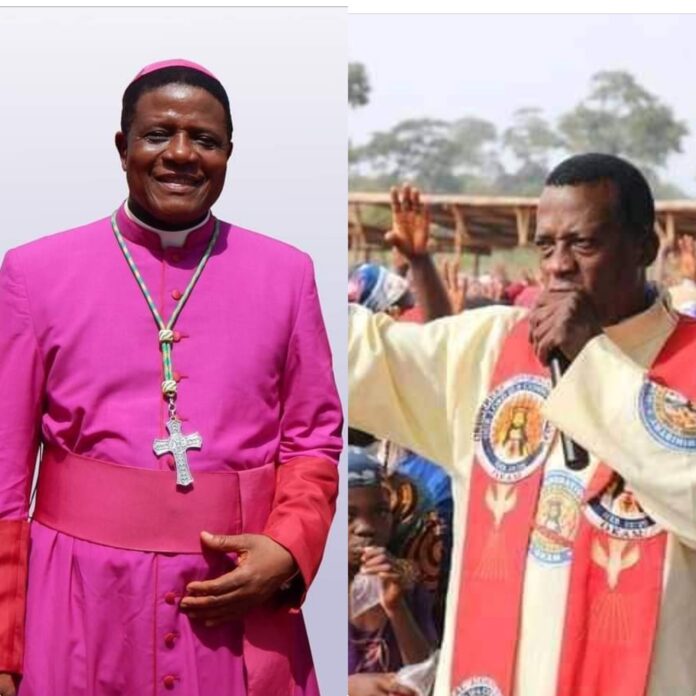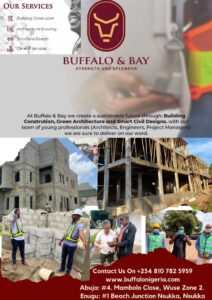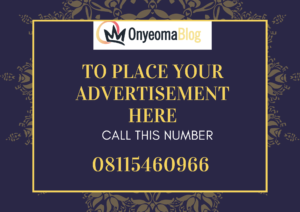 FR OKUNERERE RELOCATED: WHO DID THIS MALICIOUS POSTING? THE BISHOP OR THE INNER CAUCUS? BY CONCERNED OKUNERERE ADORATION MEMBERS.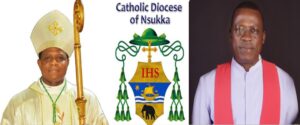 Fr. Obayi Paul martin Obinna (Asso. Professor) is popularly known as Fr. Okunerere. It was a wave of shock to all who heard about his posting to the remotest village running upon miles and hours upon hours away from his adoration ground. Many screamed: politics in the church! Others said jealousy! Others shouted intimidation! Victimization and oppression! And others exclaimed cheei-cliques and cabals in the church has done this! Etc. Why all these comments? It is not that we are opposing posting of priests which is part of their callings. But we are concerned about the distance of thousands of miles from the main adoration site! Many question thus: are there no nearby parishes to the adoration permanent site? Why must he be transferred barely few months after dedicating the parish house which he personally sponsored with the help of his friends. Why not allow him one more year? But if he must be transferred, why not to a nearby parish to the adoration site as we see it done to others of his type in other dioceses.
Thus, it is concluded to be malicious because right from the day the Bishop Onah got installed as Bishop, he has never ceased to criticize and preach against Fr. Obayi or Okunerere adoration ministry. This is known to even a child born today in Nsukka, other churches are aware, pagans are aware, all priests in Nsukka diocese can bear witnesses to this except the cliques or cabals. Every time the Bishop is issuing orders to stop the use of olive oil, stop going from place to place, stop carrying of idols, stop calling Holy Ghost fire, stop using incense etc. And as he was saying all these, he has never stepped his toes on the shores of the adoration to see things for himself. But depended his actions on translators.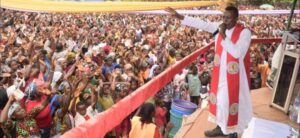 This priest he is treating like this is the most humble and obedient in the whole diocese which the Emeritus Bishop Okobo can testify, most priests both within and outside the diocese confirm these qualities of Fr. Paul Okunerere. He keeps quiet until when pressed against the wall and to the point of last breath before he lets loose his fiery and lionic nature for defense only and he would coil back to shell. Even right now he did not support that we should write anything or say anything but we have to disobey him because we know the suffering he is about to undergo does not worth it. We found out that the bishop feels that Fr. Paul challenges his popularity which the young man never cared to shield anybody but moves on his own unassumingly. Anybody who reads this should know that we are speaking nothing but the truth about Fr. Paul. The Bishop hates Fr. Paul together with his footseps. It is not a hidden fact. People keep asking what has Fr. Obayi done to this man that he no longer hides his bitter feelings towards the young man. He warns the priests not be another Okunerere or else he will slaughter them; in the same way he warns the seminarians.
This Paul he hated like this has done greater work of remembrance within his twenty-one years in the lord's vineyard than so many older priests. We know you hate testimonies, the adoration, healing, and Fr. Paul but we love him. So leave him and the adoration for us. Above all, our worry is not so much the distance or posting but chiefly lies on security of the area especially the roads leading to the place. Fr. Paul has done a lot and should not be pushed anyhow.
When he was at umuopu, in 2002-2003 he built eight rooms for the parish, at St Mary's Ogroete in 2004-2006 he finished the upstairs behind the old father's house with offertory money he was not allowed to touch. So, for seven years he remained a curate, and all those years, he never touched offertory collection until 2007, when he was transferred to Umushene as a resident priest but was asked to invest every kobo from adoration into building of the parish house supervised by Fr. JOHNBOSCO who can testify to this. At the end, it was calculated to be twenty two million naira (N22m) for building of the parish house and five million naira for the bungalows which today serve as secondary school to the parish, a total cost of twenty seven million naira (N27m). Along with that was the building of the adoration ground at obimo with a house more than thirty rooms self-con. He invested (N54m) at obimo which Bishop Onah has demanded that he must surrender both the keys and documents of the place to one of the priests- and Fr. Paul did it without hesitation. We follow all these story lines of his with amazing records.
Read also https://onyeomablog.com/man-arrested-with-350-wraps-of-cocaine-with-street-value-of-%e2%82%a62-3-billion-at-nnamdi-azikiwe-international-airport-abuja-by-ndlea/
Further again, Bishop Onah asked Fr. Paul to surrender the documents of a piece of land called garabandal to another priests which Fr. Paul intended to use for adoration site, but Bishop Onah refused, he left everything for the Church. Even recently they are again stretching their hands to take away this present land given by the government with the excuse that odumeje came to his bazaar, a move they started by asking him to write a disclaimer on odumeje and which he did. In 2014, Fr. Paul sole handedly built a museum of 2.8 million naira and further bought a transformer when the entire Cathedral and St Theresa's college were in total darkness for months for lack of funds. Fr. Paul bought a first class transformer at (N1.5m) which serves till date. None of these are remembered, all they know is to kill him, crucify him, put him in the cooler etc. Ok, what of the recent happening, Fr Paul was the longest serving curate for seven years and resident priest for another seven years before being made a parish priest for the first time in 2015 yet he was patient and cheerful and uncomplaining.
When he was made a parish priest, Bishop Onah paid a pastoral visit to his parish in 2019 and after inspecting the entire pastoral documents called the attention of the priests on attendance and made a shocking utterance; to quote his exact words: he said "among all the parishes I have visited since my installation, this is the only parish that has complete documentation done and again, he added. quoting him still, "it shows that all that I have been told about Fr. Paul is not true, see, he attends to all the sacraments including the sick, baptism and others" he looked at the priest's angreedly. We all jubilated when he made that remark. Note the word "all that I have been told about Fr. Paul" which means that cabals around him smear Fr Paul with black paint to gain cheap favor and popularity. But our in-take is that you Bishop knows the truth now, yet you allow the cabals to use you to torment Fr. Paul. It may not be far from the truth that you Bishop might have been prevailed to post Fr. Paul hundreds of miles away so that you will shut down the adoration indirectly and automatically without utterance.
They know very well that distance will wear Fr. Paul down and demoralize him leading to a slow death of the adoration. That is why they planted their member, one of the priests who also claim to be holding adoration now at ugwuoye to block and absorb all who go to Okunerere adoration from Nsukka town. Well we don't know why you are making yourself the enemy of Okunerere adoration. we don't think the battle line you are drawing is necessary nor in favour of any party. Stop occasions portraying you as enemy of progress. The writers of these are more than four hundred and are ready to co-opt the millions of Okunerere adoration members worldwide. But these cabals are all foolish thinkers. Fr. Paul's own gift is super-natural. Our people say, "Adighi azo eze azo" meaning that we cannot politicize, contend or contest for eldership. It is given and self-evident. We don't care about the sycophants planted everywhere.
What we want is, leave our spiritual director for us and don't stifle adoration with your harmer of jealousness. One thing they don't know is that Fr. Paul doesn't compete for anything, his, is a supernatural endowment, believe it or not, even if hundred adoration centers surround him, he will still thrive because his motto is live and let live. We are also aware of the cartel's secret evil plots against Fr Paul. And Bishop is also aware of the road hazards and incessant kidnapping and robbery on that road which attracted army checkpoint on just one spot of the lengthy and winding road! This is the danger which the Bishop and cabals in white cassocks are exposing this man of God who is supposed to be resting from over- labour, and tear and wear since twenty one years now.
This is act of wickedness and victimization. It is what Latin say "homo lupus homine" meaning that man is a wolf to man! Another Information gathered was that Fr. Paul once wrote a spiritual book and who a priest one of the cabals called the attention of the entire priests and convinced them to ban the book and till today, the book never saw the light of the day. We learnt that Fr. Paul even went to Bishop Onah to complain for the release of the book. It was then that he remembered to match harder and impound the book till date. But God is God, who can count Fr Paul's publications today? On another note of our agitation, apart from road hazards, the implication of father Paul or his driver to drive for a very long distance after all night, awake, has the tendency or possibility of having accident and dying as one sleeps off on the steering. What we want to warn against is, let nothing planned, or not planned scratch the priest as he goes and comes from such a long and winding distance.
We were crying and praying that the Bishop will be considerate to bring, Fr. Paul closer to the adoration permanent site but all of a sudden, and unexpectedly, his transfer away from the adoration perm site was tripled. It is sheer wickedness, it is intimidation, it is jealousy and victimization. The compiler's action betrayed them as haters of Okunerere adoration ministry together with all the members. Well, we accept that, but all we know is that Fr. Paul's works give God glory through the services he renders unto these mad men and women, a pack of illiterates. We call Fr Paul all sorts of names yet he excels in many things he does. We also learnt that the Bishop plotted to stop his promotion to associate professor. To prove it, we gathered that anybody who acquires doctorate degree was announced and celebrated during Presbyterian meetings but for once, Fr Paul has never been announced over this enviable position among the priests! Wao! this jealousness is too glaring. Ok, if anybody doubts the depth of the hatred, let the person go through the posting list on priests working in institutions and show us where Fr. Paul's names appeared nor even the name of the university Godfrey Okoye where he teaches. But the names of even those teaching in the primary and secondary schools were reflected, The Bishop or cartels, why do you allow jealousy and pride to ruin you? Must you be the only king standing?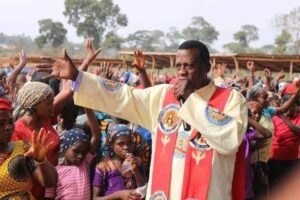 To further prove the depth of animosity, acrimony, jealousy and intimidation, Fr Paul suppose to be leading in anything charismatic in the diocese but the bishop and his clicks never allowed the leaders to put his name for any program lest he shines. Ask people and confirm all these. In fact if I were Fr Paul, I will leave the Church or the diocese, though it is not late, we will suggest that for him after.
It is quite surprising that both the Bishop and these cartels have not repented, because the Bishop started his persecution immediately after his installation in 2013. He embarked on a mission to destroy anything or traces of Okunerere whether a person, name or a group. It surprised everybody, as if he was ordained to destroy Okunerere. Everybody know this truth, we are not lying. You people excluded him, rejected and ejected him. It is not as if it start manifesting at some lab initio point when Fr. Paul started misbehaving, no, but you started the war against him from your birth as bishop's installation.
The young man has done nothing to you. It is not as if he does not give the diocese the little money he gets. For instance, the barrages of monuments he achieved for the diocese as already mentioned, in 2020 during corona, he single handedly with little help of some his friends renovated the parish house, and the parish church to the tune of about ten million naira, ask the parish council whether they brought up to 1.5 million. And you came and dedicated the church on the 20th of Dec. 2020 and painful enough, in the full view of the entire parishioners, the Bishop appreciated everybody but omitted the parish priest, Fr. Paul who poured in more than eight million. One of the priests on the altar, tapped you on the shoulder that the priests are murmuring that you didn't acknowledge the parish priest before he reluctantly chipped in the parish priest, but those of us who were near knew what was happening. We knew it was an intentional omission. So, to sum it up, anybody who has put in the much as mentioned above by any priest like Fr. Paul-Okunerere should be allowed to rest. It is not up to a year his church was dedicated, he was jolted out like a tenant whose rentage expired only to go and start work in a young parish maybe without church or Fr's house etc. You have seen a builder.
People like Fr Paul is a big man in the church and as such should not be toyed with anyhow he needs and deserves consultation. He should choose residence like the sacred cows at Amalla, and Ede Oballa parishes. You look down on him and shot him down in your diocese yet, his voice is heard all over the world. You do everything to bring him down to no avail yet you cannot read the hand writing on the wall that a fire you did not ignite, you cannot quench. You refused an invitation for him from west minister diocese in London only on the ground that he would preach heresy; forgetting that before you came on seat, he has preached more than ten crusades in London under Bishop Okobo. Is it only now that he will preach heresy? Only you are wise, others are apes and baboons without brain and up till today, you rarely grant him permission for any crusade or retreats lest he becomes more popular than you. But you seem to forget that before you became a bishop, he has been known worldwide. The palm cannot cover the brightness of the moon. Pride! Pride! I too know will kill you.
Leave this young man alone so that confusion will not assail you. What many people are saying in amazement today regarding this posting is: so this Bishop has not yet cooled down, so he is still pursuing Fr Paul what is wrong with him?, Bishop tell them what is wrong with you, your annoyance; Fr Paul gives physical cash, Fr. Paul builds parishes for you, Fr. Paull gives millions during cathedraticum, Fr. Paul holds adoration, he is into academics like you. What is his offence? Tell us and leave him alone!!Fr. Paul is not so erratic like some priests. Go and copy from other Bishops like Onaga and Mbaka, bishop Onaga manages him diplomatically.
But in your own case, Fr Paul has never challenged you or failed you or in parish duty or any assignment, he humbly obeys virtually every order, yet you wouldn't allow him to drink water and rest the cup. Go to Onitsha and see Fr, Ebube monso and Arch Bishop Valeria Okeke, how he loves him and even financially supports Fr. Ebube monso but here, Fr. Paul spends on you lavishly, yet you keep persecuting him. We, one day heard your comment that you know the right thing to do but pressures are too much on you over Fr. Paul. Well don't worry, one day, they will pressurize you into your grave. We plead with you to adjust your thermometer, it is reading too fast, control your ego, swallow your pride and leave the young man alone. It is only a fool that is deceived to commit sin.
In fact by now Fr. Paul should be a monsignor judging from the above narrated achievements. Remember, that we have only concentrated on his parish activities. We have not looked at his escapades and prowess in converting of souls via the adoration ministry worldwide? As we heard him mention few weeks ago that he has travelled all parts of the known world to minister to all kinds of people both black and white which no priest this in diocese has done one-third, of and even you Godfrey Onah, you have not evangelized one-quarter of what Fr. Paul has done or achieved before even you became a Bishop just in 2013. What have you done? You were teaching common Anthropology in a class room of 10-15 people and you are coming to quench a fire you did not ignite- that fire may burn you if you don't take your time. Don't destroy yourself deliberately. We are not even again asking you to post him to a nearby place, he should choose where he does things at his pace and should not be saddled with fresh assignment like a newly ordained priest. You just dumped him where he may not have access to good water, electricity, good food and security above all. If this posting is guided by Holy Spirit, or should be accepted in the spirit of obedience and calling, why don't you admister your Cathedral from umulokpa or okutu or ehamufu? You secure yourself there at Alor-uno and threw Fr. Paul into the wild bush and let wild beasts on the road attack him. Don't worry let just anything attack him or attempt attacking him, then the sword that devours one will devour another including the cabals. You did that to Paul simply because you have the power and authority. It doesn't work like that, if it is the spirit of envegaliszation as some would claim that we should accept everything, then shift those sacred cows to those remote villages mentioned above and you yourself go and live in Christ the king Adani.
Somebody is living at Amalla by his choice, not by posting; somebody is at Ede Oballa by choice, not by posting and so many others. But Fr. Paul who worked and still works tirelessly is handpicked and thrown at will as if not born by a mother. Goddy be careful. Let nothing happen to Fr. Paul nor adoration. If you hate him, we love him. Is there no wise priest in Nsukka to Diocese advice him? Everybody is keeping quiet while your co-priest is being maliciously maltreated. Everybody feels unconcerned with flimsy excuse that anybody can be posted anywhere. It will dawn on all if we hear any ugly news on his person. Remember that this Fr. Paul has been in the remote villages after being tested at the Cathedral for three months in the year 2000. It was only in 2013 that he saw a little light of a semi- town only to be whisked back to the remotest part again after he has labored to bring the parish to standard. Some people have remained in townships since their decades of years but achieving nothing. The selfish interest to extinguish Fr. Paul, should not override our general and multitude of interests. For instance, If you are five in a room and the fan is blowing but you, Goddy Onah, is feeling cold and the other four are sweating, the best thing to do is not to off the fan but instead you quit the room! The exponents of pragmatism will say what works for the majority should be upheld so in this case, interest of the four, should over ride that of one person. His Excellency the Bishop, we know that you hate Fr. Paul. It is written all over your mouth, nose, ears, face, and above all in your speeches etc. the same degree of hatred and animosity is nursed by the cabals. You are few but we are in millions who love him, so he should live for the sake of the majority. I am sorry to say this, I know it will pain you all the more but I cannot help not saying it. Do you know that the status of Fr. Obayi-Okunerere and that of UNN in reference to Nsukka's prestige is the same? For instance if you say UNN to a foreigner, he will complete your statement by saying "oh Nsukka" in the same vein, once you say Fr. Okunerere or Okunerere, next you hear is "oh Nsukka" this is how it is worldwide. This is the kind of person that you picked and threw away because you and your cartels can victimize him, God will bear him witness. It is only the fool who doesn't know the value of what he has until he loses it and so, we will not wait to loose ours. If you don't need him stop pretending, send him out of the Church, we will take him and form a choir where he will be more valuable. Now leave the shores of this state and say "Godfrey" and see whether anybody will even look twice at you. But just say "Okunerere" you will confirm. Or as a bishop step into any market square with Fr. Okunerere, your experience will be a bitter one. This is just why you people want to kill the young man by throwing him far from you lest you are over shadowed. Fr. Paul feels betrayed because when you were appointed a bishop he told us that he used to eat and strole together in Rome. And that your becoming a bishop may make matters lighter for him, not knowing that you an incarnate chastisement.
During your installation he supplied all the water free of charge to millions of your guests yet you are maltreating him like a kid, no, like a dog. You make him ply the road where headsmen and bandits rob on daily basis. Our Intel have told us what you and your cartels planned. You posted him with pure wicked intention to close the adoration. A clear point in this posting, is indirect closure of the adoration which if you succeed, you give automatic birth to high rate of thief's and brigands in Nsukka. You cannot fathom the Importance of the fire and the gain of the words he speak to us every Friday and Sundays until you extinguish it. you posted one priest from obukpa to Nsukka town at obukpa to Nsukka town and many for younger priests than Fr. Paul to township. But Fr. Paul who has one of the largest crowds in the south-east Fordecades to lose them due to distance. Why? What gain. But Fr. Paul will drive to/from for hours to attend to the people for adoration, for Sunday prayers, for first Tuesday prayer, for families, for first Wednesday's, for reconciliation (igba-ndu) and do consultations for people. Can't a priest busy like this be kept in a nearby parish or asked to reside in his adoration ground? Common small lecturers and student- priests in UNN are given resident permits within Nsukka metropolis to do nothing than to face class work! But a whole associate professor is thrown into a remote village where he cannot get even network to do research for his full professorship and upon that, he is still saddled with parish work.
He has been tested in parish management and he excelled, why bordering him further? Are there no wise priests in Nsukka to advice this man that his attitude to this priest is purely wrong? Are we all keeping quiet because it does not concern you directly. The scripture say, fear only him who can kill the body and drop them in the hell. Remember the book of revelation holds that cowards will not inherit the paradise. Just keep on fearing and respecting faces. On the last day you will account for your silence over evil. We are not against posting, but at least to help him in the works which he is not even complaining such as parish work, adoration work and academic work, in all these, he is carrying it all out cheerfully. We are against the unnecessary work or stress of covering infinite distance that can be avoidable. The road he plies daily is too dangerous in terms of insecurity which the Bishop and his cabals are very much aware of, yet they closed their eyes knowing full well that Fr. Paul finishes his work usually late in the night especially (igba-ndu) and other days. Is it that kind of road he is expected to ride at such odd hours? There a pure uterior motive of those who posted him there? That is what we are saying or complaining of. Is there no parish around the adoration site? Instead of posting him far away, let him be put near to Ede Oballa, Obimo, Nru, obukpa, ovoko, Nguru, after all one priest resides in Amalla his own home town, we have Aloruno, Onuiyi, UNN, Echara and hundreds of parishes in Nsukka town here (see can533#1) but to save our time, instead of running around, the government has blessed God with permanent site. This of course, pains some people to the bone marrow.
Fr Paul should be asked to go and live at the new site and be remitting, some amount weekly, monthly, or yearly. He will readily and joyfully do it, yes he will and even more than expected, yes we know him and you as well knew he will gladly do it. The only confusion that makes him stay recoiled at times as he told us in the past, that in one occasion, he wanted to joyfully tell his progress with the museum to the Bishop he told him that he has invested the sum of 2.8M. The Bishops response and thank you was "where did you get the money when I have closed the use of olive oil" Fr. Paul felt bad in heart and said to himself, so you know that money comes from the olive oil and you forced me to stop the use but yet expected me like the Israelites in Egypt to mould blocks with bare hands! These are Fr Paul's confusion. The bishop never encouraged him for once nor even visited, the adoration on days of prayer. He never visited for at least once or in passing by despite several invitations made by Fr.paul, all responses he keeps getting was that he will not come until the population is trimmed down to even if three people are left which.so we are thinking that with this posting, he intends to trim the adoration. What baffles one is that he was never there but he decries everything Fr. does what you hear next is close it down, stop this, stop that with no iota of respect or diplomacy. Even the canon law was diplomatic when it permitted diocesan priests certain right to private property legitimately acquired based on promise and not on vow. I am thinking it is high time some bishops stopped the scramble to confiscate priests property not yet willed to them.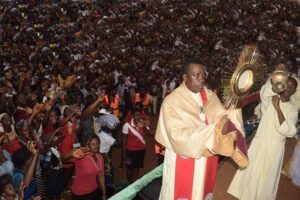 Fr. Paul is not encouraged at all despite all his contributions in the diocese both financially and otherwise. Priests are not allowed to go and help him in his adoration, at least to conduct confession and distribute Holy Communion. If you do, you go into the Bishops black book. If you want to curry favour, you then speak against Fr. Paul. No one dares speak in favour of Fr. Paul in Bishop's presence. They are all afraid of the bishop like masquerade, don't worry you people can go ahead and torture Fr. Paul, if anything goes wrong the silent mouth will talk when it is already late. Remember that this man you people are treating like this is a co-professor, you take care of doctors and monsignors and put them in the best parishes situated in townships while one who does triple work is treated and maltreated like a non-person.
Don't worry one day this honour you are denying this man will be denied you too. By then Nsukka diocese will learn how to give honour to whom honour is due. Some are cowards and sycophants in cassocks, your sins will find you, Fr. Paul is doing nothing, he is mad, nonsense and a fool and useless. But the world knows who is who. He is useless yet he became a doctor, he is nothing yet he became a professor. This annoys you people and you want to kill him as you people did to Fr. Omego. It will not work for you at all. We all got the wind of the cynical and derogatory statement the Bishop used to qualify Fr. Dr. Omego. It was sadistic. Again, may I ask, though it is another worrisome point to church authority in Nsukka.
What I want to say is: why worry Fr Paul with PARISH work again when the adoration is the amalgamation of not only parishes but hundreds of DIOCESES. Parish congregation is highest between 500 to 1000 persons but adoration ranges between 10,000 to 15,000 minimum in a normal which is more tedious to handle far above the labour in the parish. We learnt the Bishop said last time why he didn't post fr Paul to adoration ground was for him to have experience of parish work. Now, we all saw that he did it very well for six solid years , what more in experience is needed than that?. Why then posting him to parish again. What excuse have you now? Why not make him resident as other lecturers everywhere.? If you had asked him to go and live in Enugu it is far better and reasonable and you can defend your action that you want him to live near school where he teaches but what connection has your posting to do with his lecturing job or adoration locations.Both are far apart from the present parish& even the road from there to Enugu is most dangerous. It is a heartless, inconsiderate, inhuman, selfish and wickedly calculated posting aimed at suffering and death of the victim.
In conclusion, all we are saying is, give Fr. Paul a chance and conditions that will enable him execute the work of his priestly ministry. Do wise and reasonable relocation of him to a manageable distance to the adoration ground so that he can as well attend to the teaming population looking for him. This honour is due to Fr. Paul. The diocese should celebrate him as Christ's celebrity because of hundreds and thousands of souls he delivers and converts, weekly and monthly and on daily basis. Finally nobody should expose him to a further unnecessary and avoidable dangers coated in the name of posting. Another clear case of oppression is that during the reign of Bishop Okobo who had open mind towards Fr Paul, he toured the whole world evangelising the world wide. But with the coming of Bishop Godfrey Onah, Fr Paul was pinned down from both local and international travels and crusade because of the rigorosity of getting permission from him. Please whoever can deliver our Fr Paul, do it now. Do personal investigation and find out for yourself whether we are lying. Everyone knows these truths or please let someone help us convince Fr Paul to leave the Church or change diocese as soon as possible.