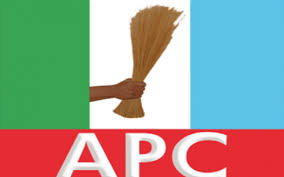 Group Mocks APC Leaders As Card Carrying Members Of PDP Emerge APC  Executives In Enugu
The leadership tussle in the All Progressives Congress APC in Enugu State yesterday took another dimension as the names of Party executives submitted to the National Office of the Party in Abuja has been confirmed to be core card carrying members of the People's Democratic Party, PDP while others are non existing names.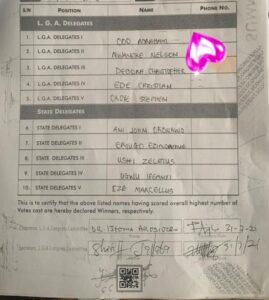 Recall that since the 2021 Congress of the Party started, numerous accusations and counter accusations have been levelled against some of the leaders of the Party with most of them coming from the leadership of the APC leaders forum, South East Political Watch Dog, Enugu West People's Assembly, APC forum for Good Governance, All Progressives Youth Forum amongst others.
These allegations were mostly on their lackadaisical attitudes towards the growth of the Party with most of them accused of working for the interest of the People's Democratic Party, PDP.
The Leadership of the PDP Elders forum has uncovered a list of known PDP members written as APC Party executives in some local Government Areas submitted by Dr Ijeoma Arodiogbu led ward and Local Government Congress committee.
Read also Fully Vaccinated 74-Year-Old SAN,  Williams, Dies Of Covid-19
In a statement made in Enugu, by the National Secretary of the Group, Barr Geophrey Nwankwo and sent to News men in Enugu on monday, the Group mocked the leaders of the Party in Isi Uzo, Nsukka, Aninri, Awgu amongst other Local Government Areas in the State for their failure to circumscribe this shameful display calling them "Sleeping Leaders"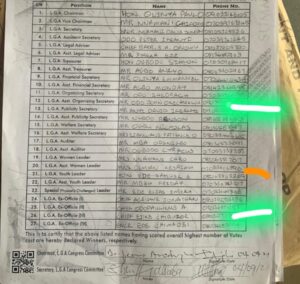 "We are not that flabbergasted by the turn of events in APC as we already know that, almost all their leaders are working for the PDP."
"Most of our members names were submitted to the National body as their executives from ward down to the local Government level"
"This can be seen a Victor for the Party and whoever that is doing this in secret for the PDP, should be commended immensely for a job Weldon."
"The Leaders of APC in Isi ụzọ, Nsukka, Aninri, Awgu amongst others are all Sleeping tigers and toothless bulldogs"
Confirmed Reports also have it that, in some local Government Areas like Isi Ụzọ, the First cousin of the State PDP chairman was submitted as a ward Secretary in Neke ward while in Aninri, Nsukka and others, names of Dead people, non existent people as well as incomplete phone numbers were submitted including avenues where by a name appears in three different wards with the phone numbers.
Speaking with newsmen on the condition of anonymity, a member of the Party in Aninri frowned at the names he saw, wondering why such a mayhem was done to them.
According to him, " We are watching what they want to achieve with this anomaly even when we have all gathered to reposition and rejig the Party"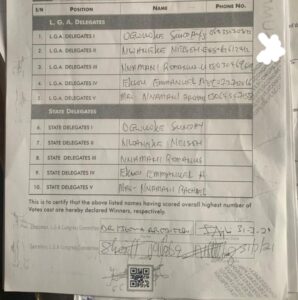 "In my Ndeabor Ward, Someone whose name is Okolo Samson Would be seeing Samson okorie with his phone number that is either not complete or have its last digit distorted"
"The thing sounds funny but in actuality, it is a plot with sinister motive"
"As for me, i will keep my fingers crossed and watch the events as it unfolds, maybe the Final spot Would be a semblance of what happened in Rivers and zamfara states in 2019"
"If APC want it to happen in Enugu, we are very much ready to play the spoilers game effectively and efficiently"
Documents gathered from some local Government Areas of the Party through intelligence reports, confirmed the development.
When called to answer, some of the leaders of the Party in the state declined to comment, calling such stories as figments and tyranny of the vocal minority "