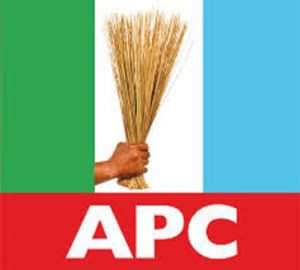 As APC Ward Congresses is fast approaching in 9 days time, group has cried out over a perceived plot by certain APC chieftains in Enugu State to destroy the party.
Our Correspondence gathered that prior to the official announcement of the date for the APC ward Congresses state, Zonal and National convention by the Leadership of the Party, that a lot of accusations were levelled against the Honorable Minister of foreign Affairs, Chief Geoffrey Onyeàmà by series of political interest groups within and outside the Party over his actual mission in the Party.
It was also alleged that he has a serious agreement with Sen Ken Nnamani to sell the Party structure to the People's Democratic Party, PDP of which they are Yet to refute hitherto.
Arising from their caucus meeting in Abuja on Thursday, another group inside the Party by name : APC Enugu Diaspora Leaders Forum, accused Geoffrey Onyeàmà and Senator Ken Nnamani of plot to use their cronies across the 3 Senatorial zones in the state to heighten tension within the Party, instigate fear, panic and also sideline the core party faithfuls.
In a statement signed by the Group's National Director for Information, Communication and Strategy, Dr Uzoh Edeh, he stated that, The honorable Minister should be aware that he has not been forgiven for raping the Party during the 2018 Congress held at Gymnasium Hall, Nnamdi Azikiwe Stadium Enugu which metamorphosed into factionalisation.
He posited that Geoffrey Onyeàmà and Sen Ken Nnamani are currently compiling a list of PDP members across the state, boasting to the genuine grassroot members that APC is not in existence in the State and that they are the ones incharge .
They stated that individuals such as Joe Mamel, Princess Ada Ogbu, Barr CC Nweke, Barr Barth Ugwoke amongst others are the vessels by which such atrocities on the Party are used to make manifest.
According to the group, "They have confirmed that Geoffrey Onyeàmà and Sen Ken Nnamani does not want the progress of APC in Enugu State. we have taken our time to study all the accusations levelled against them and we are amazed with the quantum of truth in them"
"As APC Enugu Leaders in Diaspora, who has been making contributions to the growth of the Party, we are deeply shocked by the recent happenings and our findings"
"These guys are seriously working for the PDP with a game plan of sidelining the grassroot members, making APC their own personal property and also an extension of the PDP "
"Such a betrayal and stratagem can not work anymore, we cannot be deceived and will not allow them to succeed, they said"
The Group also alleged that names of known core PDP members are currently being compiled now; as part of their plans to hijack the Party and sell it off.
They posited that Party members are being mimicked by their cronies with a saying that, there won't be any ward and Local Government Congresses because, they have compiled and sealed the structure with their own people.
The APC Enugu Diaspora Leaders Forum, however, warned that should such a thing continue, that they have what it takes, to mess them up locally and internationally.
"The National Leadership of the Party should be wary of these saboteurs, who wants to make APC Enugu State an extension of the PDP because they are just after their selfish interest and does not want the Party to grow"
"How can a genuine APC member be compiling the names of our opponents to be incharge of the Party that we have been toiling and spending to build ?"
"It is ignominious and thus not acceptable"
"All we have to say is that, it will all end in the field"
"Let them allow the bottom up approach principles of President Muhammadu Buhari in Party Leadership to stand if they are actually towing his line of Leadership"
"We are making it clear now that, Geoffrey Onyeàmà and Sen Ken Nnamani are not in anyway for APC but to destroy and make mockery of the Party"
"We will soon release the video, audio and pictorial evidence of their activities and alliance with PDP to destroy the Party"