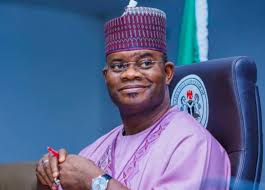 The Kogi State Governor, Alhaji Yahaya Bello, has declared a state of emergency in education in the state.
The aim, according to him, is to enable the state to regain her lost glory in education, like it was in the days of the Northern Region and Kabba Province.
The state Commissioner for Education, Science and Technology, Wemi Jones, stated this on Friday at a meeting with Educational Task Force and some critical educational stakeholders in Kogi Central Senatorial District held in Okene.
He said the declaration of emergency in the education sector by Bello had brought in innovations and remodelling of secondary schools in the state.
According to him, with the state now having two universities, there is the need to adequately prepare students in secondary schools to fit into the vision of Governor Bello for quality assurance and to become self reliant.
Meanwhile, the decision of state governments to abdicate the responsibility of investing in basic education in their various states was the subject of debate by stakeholders during the National Education Summit which ended in Abuja on Friday.
Read also I Was Into Haulage Business, Not kidnapping, Evans Tells Court Again. 
The summit organised by Human Development Initiatives had as its theme: 'Building qualitative, inclusive and adaptive education system: Meeting modern day education challenges in Nigeria'.
The Chairman, House of Representatives Committee on Basic Education, Prof Julius Ihonvbere, demanded the declaration of a state of emergency in school infrastructure.
The stakeholders said while a good number of states did not appear enthusiastic about funding basic education, they (states) did not access funds in Universal Basic Education Commission.
Ihonvbere said the absence of policy consistency, poor funding and inadequate basic facilities was a major challenge in the sector.
While expressing concerns over state governments' refusal to access their matching grants from Universal Basic Education Commission, he said that many state governments which had collected counterpart funding for education do not use it judiciously.
Ihonvbere said, "The Federal Government has their own schools which they are taking care of. But how can a state government stay for eight years without accessing its funds with UBEC?  They don't. And some, when they access the money, don't deploy it to the right place.
"They budget money for education but they don't release it for education, though not all the states as some are doing very well like Gombe, Borno, Lagos, Ekiti and Ogun. We want emergency to be declare on school infrastructure. The children are schooling under very dangerous buildings." punch