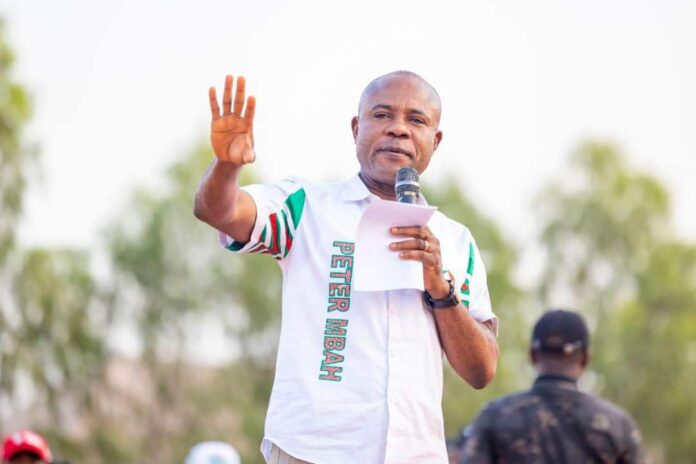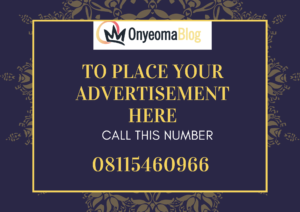 Over ten thousands citizens in Nkanu West Local Government Area of Enugu State have benefited from a free medical outreach organised by the Sally Gold Development Foundation as a way of supporting the governorship aspiration of the candidate of the Peoples Democratic Party (PDP) in the state, Dr. Peter Mbah.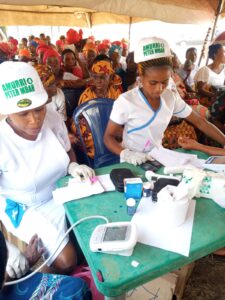 The mammoth crowd which gathered in Amurri community commended the free medical treatments, including free drugs and other materials distributed for their well-being, said they'd already keyed into the gubernatorial project of the PDP candidate.
The medical outreach, sponsored by the Chief Executive Officer of the foundation, Dr. (Mrs) Ogbonna Nnenna, had the presence of specialists, consultants and other health workers who attended to the thousands of people that converged on the venue for the programme.
While addressing the people, who were mostly elderly men and women, Dr. Nnenna lauded the governorship flagbearer for his excellent, life-changing, and outstanding programmes for the state, saying he would transform the state and meet the expectations of the people in terms of good governance and other dividends of democracy.
Dr. Nnenna, who also doubles as Secretary General, Ebeano Volunteer Movement for Peter Mbah, noted that Barr. Mbah has an unblemished history of integrity, credible track records, competence and leadership excellence and can be trusted with the leadership of the state, calling him a renowned and successful entrepreneur.
Read also Who Is Of Ebeano, Mbah Or Edeoga by Dr Hyginus Eze
"We are here today because of His Excellency, the incoming Governor of Enugu State, Barrister Peter Ndubuishi Mbah, because we believe in him, and we know what he can offer. Enugu people are lucky to have him, and that's why we came to show him our own token of support.
"We have also reached out to other places through similar programme, and we are glad the people responded positively to us. They also turned out to receive us, and we administered treatments on them.
"I have looked around, studied the programmes and manifestos of most of those vying for the office of governor, and I can assure you that Barrister Peter Mbah has the best manifesto and the best agenda.
"Barrister Mbah is coming to wipe our tears. We believe that when he wins, there's going to be economic turn around, and our people will be happy about his government.
"Be rest assured of world class hospitals here in Amurri when he comes to power. He has already promised us to take the issue of our road as a low hanging fruit. He will construct it within a few months of his administration.
"Barrister Mbah's policies in agriculture and infrastructure are the best so far. You'll be given grants to expand your farming and produce more. You will be able to process your farm produce, store them through storage facilities, and he is going to create large market where you can sell your products and make huge profits.
"I want you to come out in large numbers on the day of elections and vote for him and other PDP candidates. On the 25 February, you have to come out with your voter's cards and vote for Dr. Chimaroke Nnamani for Senate and vote for Hon. Nnolim Nnaji for House of Representatives. It doesn't end there; on March 11, pick up your permanent voter's cards and vote for the PDP again. This time, you must vote for the man who has plans to transform Enugu State, create jobs for our children and offer robust education, and that's, Barrister Peter Mbah. Tell people you want to vote where there's umbrella logo. After that, you also vote for Hon. Iloabuchi Aniagu for House of Assembly," she added.
Some of the beneficiaries of the outreach expressed joy over the progress recorded by the programme, stressing that Barr. Mbah has no rival in the election.
They promised to come out in large numbers and give overwhelming support to the PDP gubernatorial standard bearer, including other candidates of the party.
While commending the foundation for the impressive act of philanthropy, the traditional ruler of Amankazi Amurri Autonomous Community, Igwe E.O. Ogbonna, appreciated the team of medical practitioners for the good job.
"This is, indeed, a humanitarian job and we are glad that you came with your team. This good job has saved many lives of our people," the royal father said.
The traditional ruler further promised to support Barr. Mbah and queue behind his candidacy at the election.
Reacting to the massive support, Deacon Okey Ogbodo, who represented Barr. Mbah at the event, extended his gratitude to the organiser of the medical outreach, saying the gesture was not lost on him.
He described the event as fruitful, saying he would convey the impressive message to the party.
"I want to encourage you to continue this programme because you have demonstrated largely that you are a very resourceful person.
"I am impressed that you have mobilized over 5000 women for this project and we are certain of victory at the election.
"This medical outreach for our aged mothers and fathers are highly commendable," he added.
The high point of the event was the presentation of some palliative items to the people which were provided by the Chairman of the Ebeano Volunteer Movement for Peter Mbah, Hon. Chidera Nwodo.