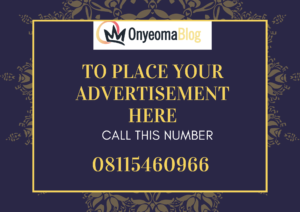 Enugu State Structures for Signage and Advertisement Agency – ENSSAA has warned different political parties who go around Violating the Enugu State law on Outdoors to stop doing so or face the law.
The press release reads…
"PRESS RELEASE!
"VIOLATION OF ENUGU STATE LAW ON OUTDOOR ADVERTISING BY POLITICAL PARTIES AND POLITICIANS.
"The Enugu State Structures for Signage and Advertisement Agency, ENSSAA hereby directs all Political Parties and Politicians in Enugu State to stop with immediate effect the violation of ENSSAA Law 2016 as it pertains to erection of billboards and Signage in the state.
"ENSSAA Law 2016 directs that all billboards and Signage in Enugu state must be approved by ENSSAA and appropriate Permit/Certificate issued by the Agency.
Read also Crisis In Enugu Labour Party As Ekweremadu group, APC Stalwarts Fight For Enugu LP Structure 
"ENSSAA shall no longer tolerate erection or display of billboards and Signage – signboards, branded vehicles, banners, flags, handbills, posters, etc.
"Enforcement of ENSSAA Law 2016 shall henceforth be intensified for a beautiful, friendly and safe environment.
"The Agency hereby seeks the cooperation of the concerned.
Signed.
Ike Ezugwu rpa.
GM/Chief Executive Officer."