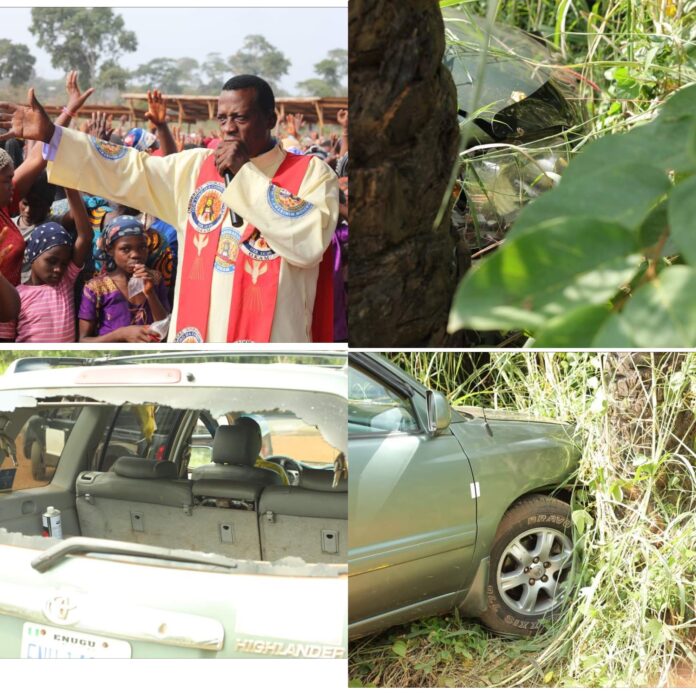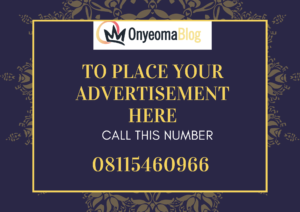 An Account of Prime Time
"Our people say, we warn about the rain before it falls. Have you all not seen what we are saying? Fr Paul was at the army check point when the armed men attacked the military checkpoint around 7pm yesterday Friday, 15th October, 2021.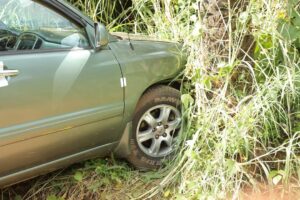 "This happened on his way from Ikem Isiuzo, his new parish to Nsukka for Friday Adoration. What if a stray bullet had caught him; I hope the diocese will be celebrating it as a victory or an achievement? This is the evil we said that can be averted.
"This definitely wouldn't have taken place if he was posted to a nearby parish? See how he nearly lost his life ! All his two and only cars were written off as they rammed against log of woods and debris on the road left behind by the armed men or the vigilante and the efforts to drive to a safe hide out, the car hit a palm tree which was divinely positioned because, had he missed hitting the palm tree, he would have jumped into the river with Fr Okunerere heading long into a bottomless deep teep founded at the base with a flowing river. This happened along Obollo-Eke road around 7pm on his way to the adoration ground situate thousands of meters and hundreds of miles from Isi Uzo near Ehanufu college of education of which itself formed border with Ebonyi  state. We also learnt that Fr Paul held morning mass yesterday and conducted the sacrament of confession for the parishioners and went for Academic Departmental Board meeting at Godfrey Okoye university and as well held two lecture classes and went home and changed his cloth for adoration yesterday night when the incident took place.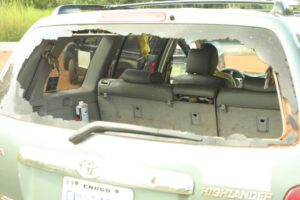 "And not minding the narrow escape from death, he was brought into the adoration ground around 11pm in the night where he stood up breaking the word to the people and exorcizing the possessed and praying for the sick for recovery till 5am this morning.
"This event took place at the military check point  at Ugwu-egbe very close to Obollo Afor, you can verify it life. The unknown armed men sprayed bullets at the military men who retaliated. This put every movement to a halt for hours between 7-9pm. The whole security outfits were let loose including the local vigilantes at Obollo Eke and Onumkpu Ogerenye were fully activated. In our efforts to escape said the driver, we rammed the car on a standby palm tree  unknowingly that after the palm tree was a deep river as everything was covered with darkness. The second car hit the road block and battered the lights and bumper and affected the radiator but we managed it like that to the adoration ground about something to Eleven o'clock while the other car, highlander, was grounded.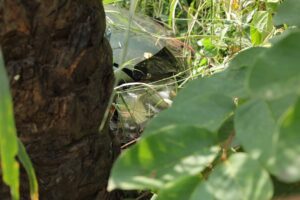 "If the strayed bullets had struck Fr Paul, what would the authority say? By then they will quote us right but only God will live to summarize the outcome because it may, I said may spell doom for the entire diocese. And as we are seeing this, it looks like this is just the beginning!!! Who knows who planned and planted who?
"What baffles us is that in Fr Paul's usual nature, he has said nothing to push us into action. Like a lamb led to alter for sacrifice, he remained calculatedly composed. For more than four times, he stepped us down especially that of today with concrete and obvious evidence saying let God do the battle for him and not human. In fact, his way of life bores us as it is difficult to unravel.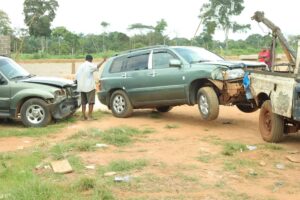 "As it stands now, he will be going on borrowed vehicles or on okada or keke due to the demands of his services! Are they going to buy new cars for him, there is no way, it is only if there is a child of God touched in the heart who can do that or a philanthropist. May the Good lord providentially provide us with such messiah.
"As Fr. Okunerere was going through the hurdles, of class room, parish and adoration activities; standing all through the night, those who conspired to over labour him and transferred him to infinite distance, have eaten their delicious night meals and enjoying their sweet night sleep. May God remain the supreme judge. And as they do this, they will not even appreciate any achievements he made nor respect nor honour him for any purpose lest the world should praise his works. This is why we have been positively agitating for a reposting! To avoid this avoidable evil within human creation.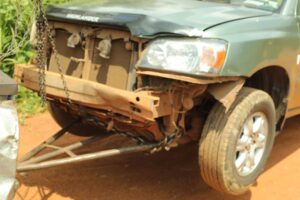 "See, in the recent clip of Fr. Mbaka's reaction against the malicious and devious transfer of Fr. Obayi – Okunerere, he revealed that he suffered same and remarked that he was consulted by his bishop and got pre-informed during which he pleaded for extra one year but he was granted six months to organize himself for a new place. Infact (you need to watch the clip). Now, see the way Nsukka diocese treats her own priest and not just that but a priest with a high profile and pedegre both in spiritual, academic and societal realms than most of them. He was not consulted nor pre-informed, but was just picked up and thrown away like a pebble  when they knew very well that the parking of his books alone can take one month and he is just whisked out without iota of respect!. At least if things were done the way it should, he deserves the honour of a prior information and not just like any how person, even though, all those priorities do not border him but at least offer it and let him reject it. Well, for now we are thanking God for his safety and pray God that yesterday's sad experience does not occur again in Jesus Name.
"In summation, we still appeal to the authorities concerned to rethink, revisit and readjust their lenses of reason to rational and exceptional cases like the point at hand. As a reminder, we are never against posting or transfer but we are vehemently stressing against the work load on one person, the distance between assignment locations, the demanding nature of adoration and the adverse effect it will have on millions of adorers. And above all is, the insecurity issue which has just struck no sooner than he parked into the new parish. The situation calls for a spiritual insight for those whose consciences are still alive with the truth.  Accept our warm regards. The Concerned Okunerere Adoration Members.