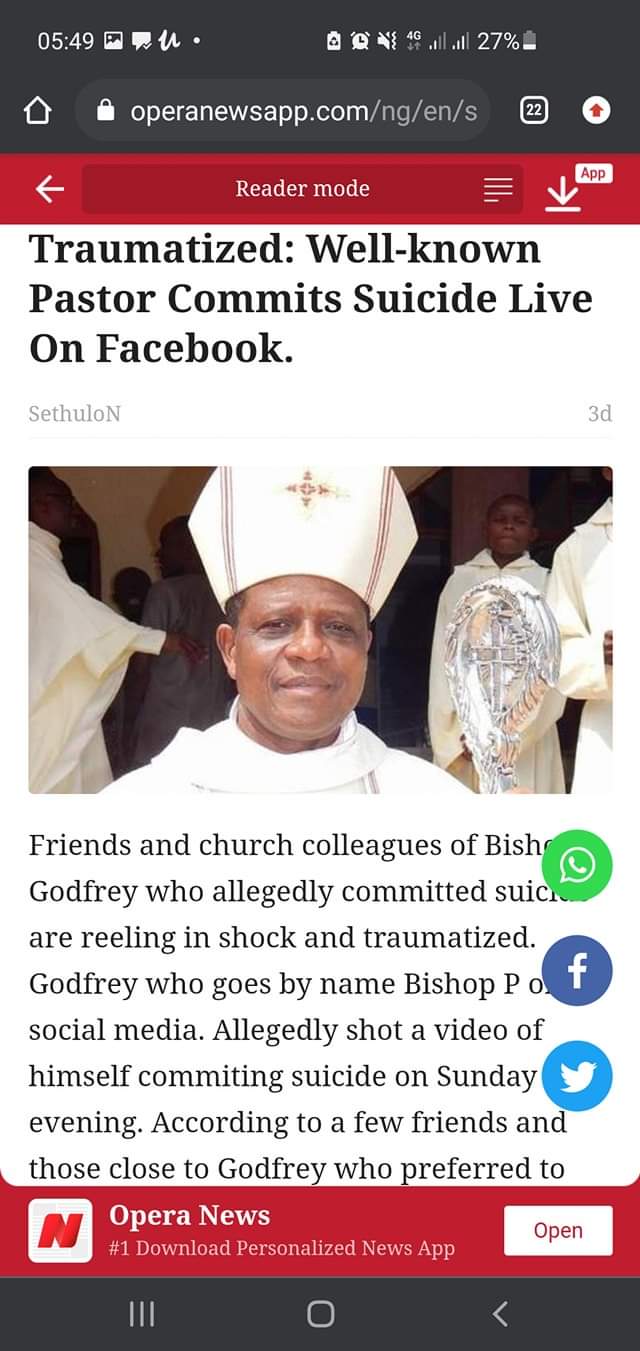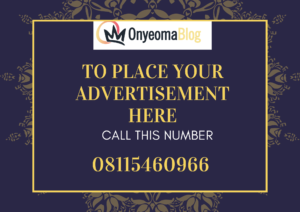 Information reaching us has it that Opera News has accused Godfrey Igwebike Onah, the Catholic Bishop of Nsukka Diocese of committing suicide on a live Facebook.
We equally learnt that Opera News has accused the Bishop on turning a normal Sunday Mass for political Thanksgiving Mass on 17th May, 2021.
In a statement signed by Fr. Emmanuel I. Asadu, Director, Social Communication, Catholic Diocese of Nsukka  reads:
"#FakeNewsAlert
"Re- "Well-Known Pastor Commits Suicide Live on Facebook"
"It is undisputable that stones and sticks are only thrown at trees bearing fruits; but to attempt to cut down the tree in the name of throwing stones and sticks, is barbaric.
"The spate at which Opera News, in all intents and purposes tries to malign, maim, dislocate, and maliciously taint and defame the image of the Catholic Bishop of Nsukka, has become scandalously unacceptable.
"On May 17, this year(2021), it was a case of character assassination, where in one of the publications in their site, turned a normal Sunday Mass of the Bishop, to a political thanksgiving Mass; wherein the they forcibly put their own words into the mouth of the Bishop, in name of his homily at the said thanksgiving Mass; forgetting that the holy Mass by Fr. Bishop is streamed live online.
"As if this was not enough, on August 5, 2021, they again maliciously came up with a news report "Well-Known Pastor Commits Suicide Live on Facebook". The news report partly reads: "Friends and church colleagues of Bishop Godfrey who allegedly committed suicide are reeling in shock and traumatised. Godfrey who goes by name Bishop P on social media allegedly shot a video of himself commiting suicide on Sunday evening. According to a few friends and those close to Godfrey who preferred to speak anonymously for fear of victimisation, the deceased was from molepolole in Botswana and a Pastor at Holiness Union Church in Metsimotlhale, Botswana."
Read aslo https://onyeomablog.com/apc-crisis-we-are-waiting-for-buharis-return-to-decide-bunis-fate-apc-govs/
"The post of course is not the problem. Granted any person can answer Bishop Godfrey, what is however reprehensible was to use the picture of the Bishop of Nsukka Diocese as the said Godfrey that committed suicide. It is intentionally trying to deceive the public and defame the person of the Catholic Bishop of Nsukka diocese, whose picture lie helplessly on the write up.
"Picture, they say, speaks thousand words. In other words, a picture is worth a thousand words. Complex and sometimes multiple ideas can be conveyed by a single image, which conveys its meaning or essence more effectively than a mere verbal description.
"Going by the fact that in our time most people are in a haste and will not get to read the entire report, the caption and the pictures are enough for them. This explains why so many people have been calling to confirm what they saw online. Some who are critical know it is the work of an enemy, because Bishop Godfrey who is said to have committed suicide on Sunday evening, cannot be the same person who just ordained 20 new priests on Saturday, August 7, 2021, (that is after the Sunday, August 1), who also celebrated his normal Sunday Mass in his cathedral, and is at present in a retreat with his priests.
"Bishop Godfrey whose picture they maliciously used in the report, is from Nsukka, Enugu State, Nigeria and not Botswana. He is the bishop of Catholic Diocese of Nsukka, and not a pastor at a said 'Holiness Union Church'.
"This is calling the management of Opera News, to order, and a reminder for them that defamation of character and intentionally trying to mislead the public is a crime.
"The Catholic Bishop of Nsukka Professor Godfrey Igwebike Onah, whose picture was wickedly used by Opera News, is hale and hearty, and occupied with the task of leading his flock to Christ.