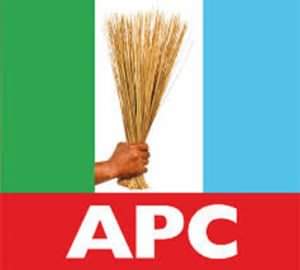 The Leadership tussle bedeviling the Enugu State Chapter of the All Progressives Congress – APC has taken another dimension as the South East foremost political Group has revealed the Identity of the individuals allegedly causing the Party to move back wards.
The Group in a message Sent across whatsapp groups through one of her members, Hon vincent Ezema, poured curses on those using Enugu APC for their asinine purposes.
They also called on the genuine Party members, to be careful with those, even though their names were not mentioned, but they can be Identified using the description given by them.
Read https://onyeomablog.com/insecurity-herdsmen-invaded-15-villages-burnt-churches-405-houses-behind-army-hq-ecwa/
The Statement reads
"CURSE TO THE MOLES IN APC."
"A lot of political Leaders in the Party are seriously tampering with people's emotions and future in APC."
"They have made us look like riffraff in the eyes of some serious political heavy weights and it is time to call a spade, a Spade."
"May Curses be upon the ENTIRE generations of APC Enugu leaders that stole result sheet meant for Enugu APC 2021 Congresses and filling it with fictitious names."
"A curse shall be upon those who went to Enugu Government house Collected ₦10MILLION from Governor Ugwuanyi ahead of the 2019 general election and made APC a weakling."
"May curse be upon those , who collected palliatives meant for APC ENUGU people in 2020, sold some, and diverted most of them to their friends; abandoning the Party faithfuls and making them look dejected and rejected."
"May Curse be Upon those who used appointments meant for APC ENUGU members for sexual gratification from their girl friends (old ENOUGH to be their grand daughters) despite forming respected personalities in the society."
"May curse be upon those, who used APC ENUGU, to negotiate with the PDP, and sold all the Federal Government benefits accruing to our Party members to the PDP like : N-power, SPWS, School feeding, Covid-19 Survival funds etc."
"It is only in Enugu that APC MEMBERS WERE SERIOUSLY LEFT OUT OF THESE PROGRAMMES THAT WERE SUPPOSED TO HAVE BEEN USED TO PUSH THE PARTY."
"May curse be upon those who never allowed Enugu APC members to benefit from Appeal programs because, they have sold our mandate and entitlements to the PDP, evil people."
"May curse be upon those, who are in APC, but were fingered in ₦30 million local Government allocation scam meant for Enugu South Local Government in March, 2021."
"May Curse be upon those people, who collected a sum of ₦450 million naira from Governor Ifeanyi Ugwuanyi to weaken APC during the 2019 ELECTION, used Barr Ifeanyi Nwoga to perpetrate the evil in Enugu East Senatorial zone, Ugo Agballa in Enugu West Senatorial Zone and Rt Hon Eugene Odoh in Enugu North Senatorial zone, Chukwu bukwaa ùnu ọnụ."
"Those choose who becomes who in PDP Enugu South and share the allocations meant for the poor masses in the Local Government, God must Curse you and your children."
"May curse be upon those APC ENUGU leaders, who brought a known Drug-addict to contest for the House of Representatives in Enugu North and South, shared the election funds given Enugu APC with him and plotting him to be the 2023 GUBERNATORIAL candidate of the Party."
"May curse be upon all the Enugu APC Abuja based gorillas, who diverted money meant for the 2021 APC Congresses in Enugu and still looking for who to ACCUSE, YOUR generations must surely be punished."
"All those fighting genuine grassroot supporters and Leaders in Enugu APC, may ur ENTIRE generations be cursed."