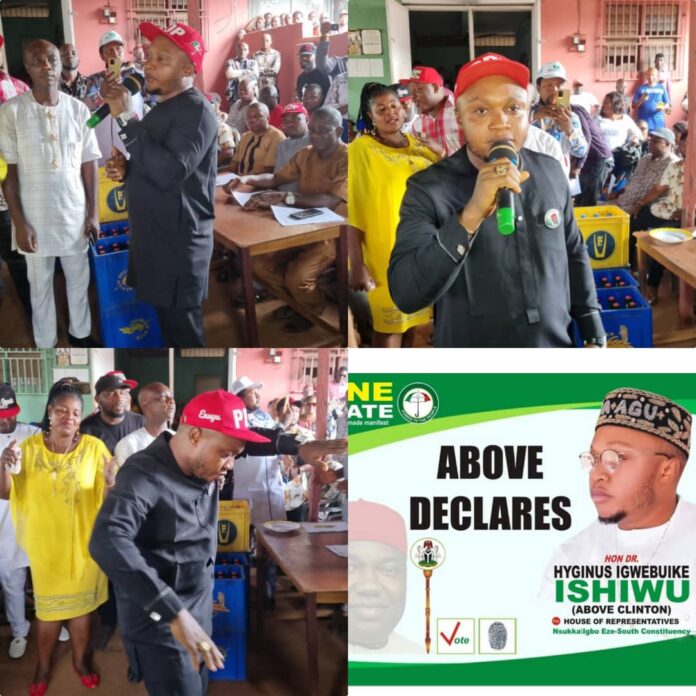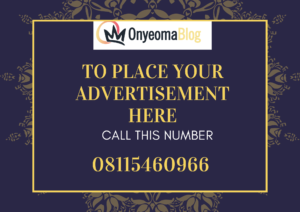 A young and vibrant youth Hon. Dr. Ishiwu Igwebuike Clinton popularly known as ABOVE, on Tuesday, 12th April, 2022, declared to contest for House of Representatives to represent Nsukka/Igbo-Eze South Federal Constituency.
Above is a native of Nru in Nsukka LGA, EnuguState. He is a business man and a philanthropist per excellence and in his own benevolence, has decided to rescue his people from the hands of one man who has held the position for the past 16 years.
It's worthy to note that Hon. Pat Asadu has been holding the position for the past 16 years and few days ago, he declared to contest for HOR again.
Read also ENUGU 2023: Why Many People From Enugu East Zone Purchased Guber Form, By Monday Diamond Ani
Above while addressing the PDP party stakeholders and delegates, told them that he needs their support and if they unanimously tell him to shun his aspiration, he will gently heed to that but if they tell him to go ahead, they should not bother about the financial involvement, that he is well to do.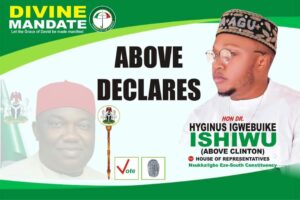 The party stakeholders and delegates commended his composure and manners he presented his manifesto and promised him their teaming support.
Speaking further, Above promised his people a road project which he will start soon and he said; "like i told you people before that i will construct 2 different roads in Nsukka to the level of asphalting and i will start this project in no distance time so that it won't appear like political promises"
"God has blessed me with finance and I'm not going to Abuja to make money for myself nor my family but to represent the interest of Nsukka/Igbo-Eze South Constituency and to bring home what is our own from Abuja," he said