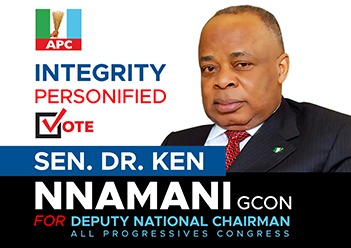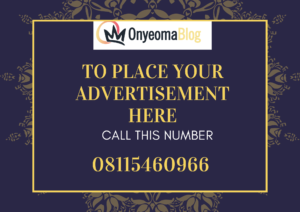 The former Senate President of the Federal republic of Nigeria and South East Representative at the National Caretaker Extra Ordinary and Convention Planing committee CEPC of the All Progressives Congress APC has been tipped as the consensus Candidate for the party.
Senator Nnamani is currently contesting to the position of the National Deputy Chairman South of the party.
It has been reported after the leaders of the party held a closed door meeting on wednesday that, Senator Ken Nnamani, would be the consensus Candidate of the party.
The former Senator, is contesting the position with the former South East National Vice Chairman of the party, Hon Emma Enukwu.
The Enugu State mainstream chapter of the party led by Comrade Ac Ude, has come out open to declare their support for Senator Ken Nnamani because of their belief that, he has a National name more than his Hon Eneukwu.
Speaking with News men in Abuja based on the latest development, Comrade Thanked God that, Finally, the candidacy of Senator Ken Nnamani was accepted by the party leaders, as the consensus Candidate for the post of Deputy National Chairman South.
He stated that, he is confident that, Sen Nnamani has all it takes to reposition the party and settle all issues bedeviling it; especially, in Enugu State.
Read also Do Not Attend, Monitor APC National Convention, PDP Charges INEC 
"We thank God for the news that the majority of the Progressive Governors have unanimously agreed and adopted the candidacy of Sen Ken Nnamani in the fourth coming APC National Convention based on his National and International Pedegree especially his track records in APC both at the national and state levels. "
" The acceptance started to manifest during the Screening Exercise, where he was given a standing ovation and asked to "Bow and go".
"We are confident that with Senator Nnamani, APC will grow more in the south"
In their own reaction too, the South East mandate led by Ocho Obodoeze equally reiterated their support for Senator Ken Nnamani.
In a statement made by the leader of the Group, Chief Ocho Obodoeze and sent to newsmen, he stated that, they are mobilising support for the former Senate President, who they see as Father and charismatic leader.
"South East mandate stands strong for Sen Dr. Ken Nnamani."
"He is a Father and charismatic leader" we have been in Abuja for over a week now, mobilising support for him, we are confident of Victory come Saturday "
The Contact and Mobilization South East Woman Leader led by Lolo Queen Nwankwo also stands strong for Sen Dr. Ken Nnamani likewise The South East Progressive Forum.
The Groups are urging all the National Delegates to stand strong for Senator Dr. Ken Nnamani for he is the type of leader that APC needs in the South.