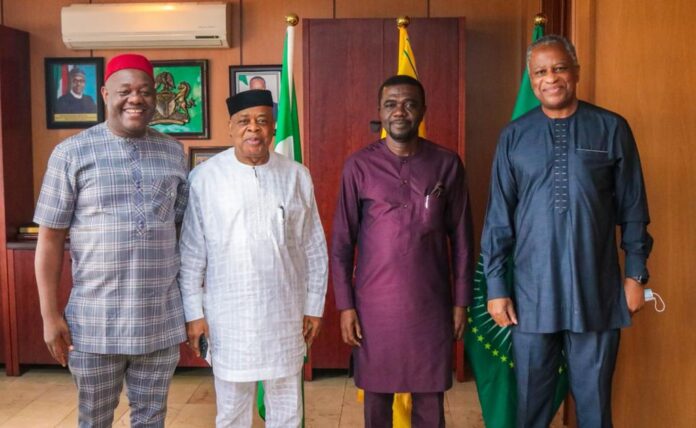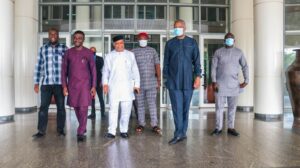 The rumored news that a one time failed House of Representatives candidate, Hon Barr Ugo Agballa has been factored in by some PDP moles in the APC to become the next chairman of the All Progressives Congress APC in Enugu has been called a jamboree by group.
Recall that few days ago, the pictures of the said Barrister, the Hon Minister of Foreign Affairs and Sen Ken Nnamani was making round the internet that Ugo Agballa has joined the Party before it was followed with stories that, he has been positioned to take over the party's Leadership.
The Leadership of the APC ELDERS FORUM, has laughed at such news describing it as a joke of the century.
In a statement signed by the National Secretary of the group, Dr Charles Ogbu, he stated that there is no way, such a plan would work because, Barr Ugochukwu Agballa is not even a member of the Party.
He wondered whether those taking him round actually do so with their senses or under the influence of alcohol, thus calling for a total abhorrence of such a conundrum.
According to him, " We the Leadership of the APC leaders Forum want to dissociate ourselves from any plans by the PDP Moles in APC to destabilise the Party and use it as their toy"
"We have gotten a report about a written script by PDP Enugu State led Government to destabilise the Party through their agents, using Barr Ugochukwu Agballa as a tool to effect it"
"It should be worthy of note that, Barr Ugochukwu Agballa is not Yet a registered member of the Party, he is a known purveyor of hatred whose asininity is unmatched"
"Barr Ugochukwu Agballa has been an agent of destabilisation starting from his days in CIC Enugu and is also a professional electoral failure"
He also alleged that, Sen Ken Nnamani and Geoffrey onyeàmà' want to use him to hold brief for their PDP stooge that they want to make the state deputy chairman, who would then take over the Party when Barr Ugochukwu Agballa goes for Senate.
They also alleged that, the said Barr' s political profile does not even Match that of the party's ex-officio members in the wards ; as his biggest political achievement was, loosing an election to Chief Dubem Onyia even when he was sponsored by an incumbent.
"Sen Ken Nnamani and Geoffrey onyeàmà should be very careful with the way they play with our intelligence because, we could be angered into doing the unthinkable"
"They are not the State Party Chairman to accept people into the Party neither are they ward chairmen"
"Ugochukwu Agballa's political profile does not even Match that of the ex-officio Executives in our wards because, his highest height was loosing a house of reps election to Chief Dubem Onyia; even when sponsored by an incumbent"
"He currently has 5 of his aides being paid by the PDP led State Government Aside numerous contracts that he do for them and we can never allow that to Happen"
"It has become very CLEAR that Sen Ken Nnamani does not want the growth of APC at all and we have no other option than to stop him"
The APC Elders Forum urged the National Leadership of the party to do everything possible to ensure that the grassroot members of the Party are allowed to choose their Party Leaders.